Views) :
This September will see the global release by global music giant 'Naxos' of a six-CD set of solo piano music under its Grand Piano label, titled 'Perfect Moods' – contemporary contemplative piano miniatures. CD5 of this set includes world premiere recordings of 12 critically acclaimed solo piano works composed and performed by Sri Lankan-British composer-pianist Dr. Tanya Ekanayaka. The music is also accessible digitally through streaming platforms.
The compositions are also contained in Tanya's solo album "Twelve Piano Prisms" (GP785). Combining a plethora of original musical ideas and drawing inspiration from his own life and thoughts on life, nature and music, they were composed between 2016 and 2017 and contain trans-creations of traditional and folk melodies from Armenia, China, Japan, Sri Lanka, United Kingdom and United States.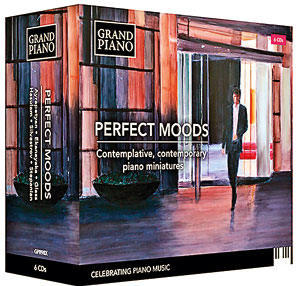 Naxos said in its release, "Perfect Moods is a collection of acclaimed albums that together present a multicultural journey of inspiring and contemplative modern piano repertoire for the 21st century. Armenian pianist Mikael Ayrapetyan explores the exquisite Preludes of his compatriot Haro Stepanian; the spiritual and sensual Melodies of the Higher Worlds by the eminent Kabbalist Baal HaSulam; as well as A Whole in 12 by Ayrapetyan. Composer-pianist Tanya Ekanayaka performs her Twelve Piano Prisms – a diverse mix of melodies from her native Sri Lanka combined with music from other countries and genres. The album devoted to Valentin Silvestrov presents an essential insight into the "post-modern" piano music of this Ukrainian composer, with its lingering allusions to the past. For Philip Glass, the focus is on love, not least in the music for the BAFTA-winning score for The Hours, but also in the breathtaking Modern Love Waltz. All of the composers included in this set present contemporary piano music in its most accessible, tonal and expressive form.
The first Sri Lankan composer to have full albums of original music released worldwide by an international record label, Tanya aims to broaden the cultural footprint of the piano while celebrating the beauty, diversity and fragility of life and of the natural world.
Full box set details can be accessed via the following Naxos Records URL:
https://www.naxos.com/CatalogueDetail/?id=GP898X
Looking for an ideal partner? Find your soul mate on Hitad.lk, Sri Lanka's favorite marriage proposal page. With Hitad.lk marriage ads, you have access to thousands of ads from potential suitors who are looking for someone like you.