I thought I'd have a little fun street shooting, so I started naming my street comps after winning hands while playing cards. So from a truly exceptional hand (a brilliant composition filled with intricacy) to the simplest card (a simple snapshot of a simple subject).
Read on to find out how to score winning hands! Attention, to be Royal Flush, the photo must be quite special!
Royal flush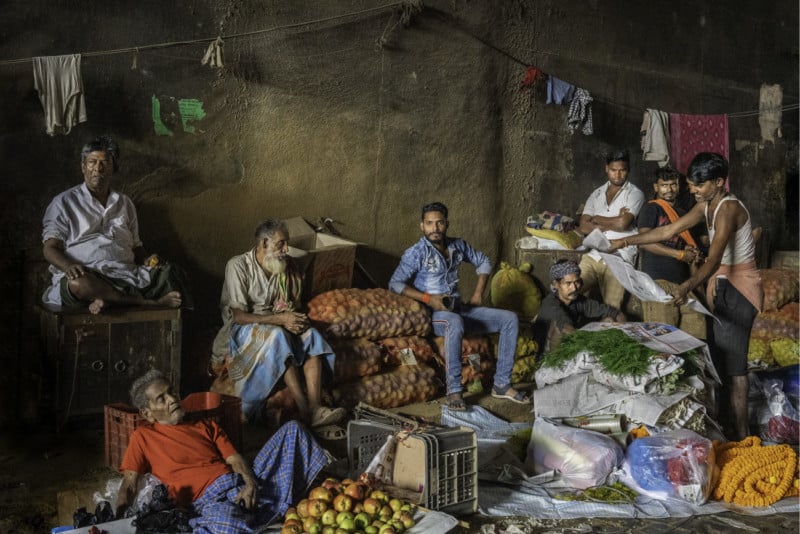 Taken in Kolkata at the famous flower market. I had been there almost every day during my week-long stay in the city and one morning as I was driving under the highway overpass, this image came to me: a beautiful light, almost biblical. , and contrary to all common rules of composition in street photography, the main figure in the center being aware of the camera. I only took a few pictures before the group broke up.
This is definitely one of those places that you know will one day reward you, and after 5 years and over 20 visits, it has certainly paid off!
Resumption in Kolkata at the Kalighat Kali temple. Again, I was familiar with this background and have visited it several times and have continued to do so ever since, but on this occasion the three different compositions all came together. And then, to complete the photograph, an Indian lady with a red sari crossed the image, filling in the space to the left. This composition divides the frame into three or four smaller ones, each with its own story: this is one of the street photography techniques that can produce beautiful images.
straight flush
An image taken in Dawei, Myanmar. It was one of those great photographic adventures, originally flying to Yangon, then taking a propeller plane to Myeik and then returning every few days via Ye, Dawei and Mawlamyine, enjoying the beautiful cultures found. the beaten track. I can't wait to go back one day when the borders reopen to rekindle our memories.
We had been to one of the many monasteries in Dawei where I found this great background with four children relaxing and a dog lying on the stairs, I stood there for about 15 minutes as the scene unfolded was developing with stray dogs roaming through the image and I waited for the whole composition to come together.
Square
I took a photography class in Dallas called Foundation Workshop, probably the best class I've ever taken, with two of my Pulitzer Prize-winning mentors: Deanne Fitzmaurice and Greg Gibson. This was probably one of the first layered images I decided to take.
Caught in Yangon fish market.
Taken in Jodhpur.
Full house
An image with a group of three and a group of two taken from the vegetable market in Kolkata. The key to the photo is selecting the background and then waiting for the elements to come together, like heads in the spaces and a natural decisive moment between the group of 3. This is one of the fundamental techniques street photography to succeed in your shot: work on the scene, compose and wait for it to develop.
This image is also taken in Kolkata.
Kolkata street scene
Flush
The Flush: Five people come together. Taken in Dawei on the beach where we practiced putting heads in the sky and shooting through creating natural frames. I took lots of frames for this image with my Sony A9 and 35mm lens to make sure the bullet was captured in its own space.
Right
Five similar people in a group. Taken in Kolkata around the Sudder Street market area. The photo above was a giveaway with three guys hunched over a wall of posters chatting, while in the image below the group in the foreground was standing still with a great background and it was was about waiting for someone to fill the void. I had the added bonus of a random hand.
A set
A bar in Myanmar.
Three workers in Hanoi's central park.
Kolkata Flower Market. It's often fun to challenge yourself and search for different objects with one of those street photography techniques of taking pictures while keeping your head in the spaces. I noticed a lot of bikes had these huge saddles, so I tried several times to use the big spring to pull through, and patience rewarded me.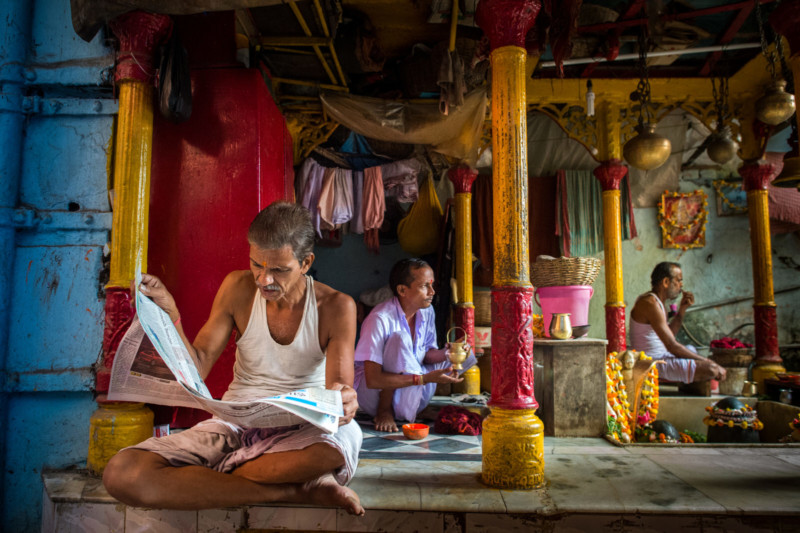 I noticed the guy reading the newspaper and acting like a reflector pushing the light back to his face. I recognized him and he let me continue filming while I waited for the other two people in the temple to do a better composition.
Two men and his son repair a bicycle in Yangon. As I approached the scene, the kid jumped over his dad and used the wheel to almost hide behind a great composition. It only remained for me then to make sure that the child's eye was not obscured by the spokes of the wheel.
Sometimes you are lucky. I saw the scene across the street so I walked across to take the picture and at that moment the cat stood up and lay down making a nice little addition to the three men.
Taken in Nagaland, not strictly street photography, but we had arranged this adventure to visit and photograph some of the last living headhunters. We were very lucky to see them smoking opium.
two pairs
Taken at the Kolkata Flower Market using the foreground subjects as a frame and waiting for the right form to occur allowing me to capture the secondary subjects behind
Taken at Camden Market relatively early in the day: I saw this great accessory hanging from an eyewear shop, so I waited for the right grouping to fit into the frame.
Pair
A group of two people or a pair of hands. These character hands were spotted in Myanmar with the twins in matching dresses.
High card
Just a great image or street portrait in the context of where the person is or what they are doing.
Taken in Calcutta.
Taken in Soho, London where I focused on something at a similar distance and then just moved in and took the picture before it passed by in a hurry! Pre-focusing is another street photography technique that allows you to be discreet and quick.
As part of a project, I covered the speaker corner shoot.
I hope this fun little exercise has been interesting and inspiring for you. Good shot!
---
About the Author: Mark Seymour is an award-winning UK-based wedding and street photographer. He has over 30 years of filming experience at over 1,000 locations across his country. Seymour has photographed for National Geographic and his work is exhibited at the National Portrait Gallery in London. He also runs street photography workshops through Shoot the Street. You can find her wedding work on her website. This article was also published here.