2022-09-09 15:33 IST
Sona Mohapatra defends Brahmastra
When a troll tweeted that the movie was offensive to Hindu deities, Sona replied, "Mahadev' Durga? Did a new incarnation come into your dreams last night and tell you this? Cus Devi Durga Ma, my personal favorite cares the least about which movie star does what. Did you enjoy hearing my song Mangal Gaan? Have you ever shared the positive of what artists do for culture? »
09/09/2022 15:19 IST
Early collections rival RRR and Sooryavanshi in mass pockets
According to a report by BoxOfficeIndia.com, the film's early collections in the "mass pockets" of the Central India and Bihar circuits rival the number of hits like RRR (Hindi) and Sooryavanshi.
09/09/2022 14:53 IST
Pooja Bhatt calls the film an "exhilarating experience"
Actress Pooja Bhatt tweeted praise for her sister Alia's film, saying, "#Brahmastra is an absolutely exhilarating experience! Magical, moving & dazzling for the eyes & the mind! I haven't seen effects of this magnitude and caliber in an Indian film to date. Raised the bar in every way. Congratulations and congratulations to the WHOLE team."
09/09/2022 2:31 PM IST
Morning shows report healthy occupancy of 50%
The film's morning shows reported healthy occupancy of 40-50%, easily the highest figures for any Hindi film since the pandemic hit. According to trade sources, the numbers will increase as the day progresses
09/09/2022 14:23 IST
Arjun Kapoor watches the movie
Actor Arjun Kapoor was spotted at PVR Juhu before going inside to watch a Brahmastra show, along with a few other Bollywood celebrities.
09/09/2022 2:14 PM IST
Alia Bhatt dedicates her film to the public
Sharing Ayan Mukerji's Instagram Stories post, Alia Bhatt wrote a note for the audience: "Our movie…is yours now"
09/09/2022 1:59 PM IST
Ayan Mukerji thanks his team for the trip
In an Instagram post, director Ayan Mukerji wrote, "With love and light…Gratitude for the journey and hope for the future…I and our entire team proudly present our work in cinemas today…! And with many different emotions, return the film to its rightful owners – Our audience!"
09/09/2022 1:34 PM IST
Kara Johar gives the film to the public
"All the love and light the #Brahmastra team has been working on is now yours! Book your tickets and experience it all on the big screen – IN THEATERS NOW!!!!," Karan wrote in a post. Instagram.
09/09/2022 1:20 PM IST
Actor Varun Dhawan was seen at a movie theater in Bandra, watching the movie with other celebrities.
September 09, 2022 1:00 p.m. IST
Kareena Kapoor and Saif Ali Khan attend a show
Saif Ali Khan and Kareena Kapoor were seen in a movie theater with their son Taimur for a screening of the film. They wore matching black outfits for the release of the film.
September 9, 2022 12:43 PM IST
Brahmastra advance reservations 4th highest
Brahmastra recorded the fourth highest all-time progression for Hindi films with ₹28 crore (net), behind only KGF 2 ( ₹42.5 crores), Baahubali The Conclusion ( ₹37.5 crores) and War ( ₹29.5 crore)
September 9, 2022 12:02 IST
Taran Adarsh ​​has shared the final screen count for Brahmastra. "#Brahmāstra *final* number of screens… ⭐ #India: 5,019 ⭐ #Overseas: 3,894+ ⭐ World total: 8,913 screens."
Sep 09, 2022 11:56 a.m. IST
Brahmastra reactions: Missing the 'scriptastra'
Trade analyst Atul Mohan tweeted: "#Brahmastra misses the mark. You had all the Astras (money, starcast, vfx…) to make this a great cinematic experience except for Scriptastra.
Sep 09, 2022 11:52 a.m. IST
Alia Bhatt's maternity fashion
Check out a photo gallery of all the looks worn by mom-to-be Alia Bhatt on the Brahmastra promotional tour here.
Sep 09, 2022 11:34 a.m. IST
Ayan Mukerji felt 'bad' that Alia-Ranbir was not allowed to enter the Ujjain temple
Ayan Mukerji opened up about all the drama surrounding his visit to Mahakaleshwar Temple in Ujjain on Tuesday. The filmmaker and Alia Bhatt along with Ranbir Kapoor were due to visit the temple for darshan ahead of the film's release. However, the actors were unable to enter due to protesters outside the temple. Read the full story here.
Sep 09, 2022 11:16 a.m. IST
Taran Adarsh ​​calls it 'disappointing'
Film trade expert Taran Adarsh ​​is unimpressed. "#OneWordReview… #Brahmāstra: DISAPPOINTING. Rating: ⭐⭐ #Brahmāstra is a big disappointment… High on visuals, low on content [second half nosedives]… #Brahmāstra could have been a game-changer, but, alas, it's a missed opportunity… All shiny, soulless," he wrote in a tweet.
September 09, 2022 11:10 a.m. IST
Akhil Akkineni tweeted about Brahmastra: "The mammoth epic finally hits theaters today. I wish the best to this passionate team. Your effort and dedication to bringing this project to life is phenomenal. #Brahmastra Can't wait to see the movie. He is the son of Nagarjuna, who has a special role in the film.
September 09, 2022 10:57 am IST
Fans on social media discuss the cameos
Fans of the movie are sharing their reaction to all the cameos they spotted and loved in the film. Those who haven't watched the film yet are advised to avoid Twitter and Instagram.
Sep 09, 2022 10:51 a.m. IST
Ranbir Kapoor on advance reservations
Brahmastra's advance booking numbers can skyrocket, but Ranbir Kapoor advises not to take them too seriously before the film's release. Read the full story here.
September 09, 2022 10:34 am IST
Ranbir Kapoor and Alia Bhatt met fans
At the film's screening in Mumbai on Thursday, Alia Bhatt and Ranbir Kapoor met fans and shook hands.
September 09, 2022 10:26 am IST
Shanaya Kapoor attended the screening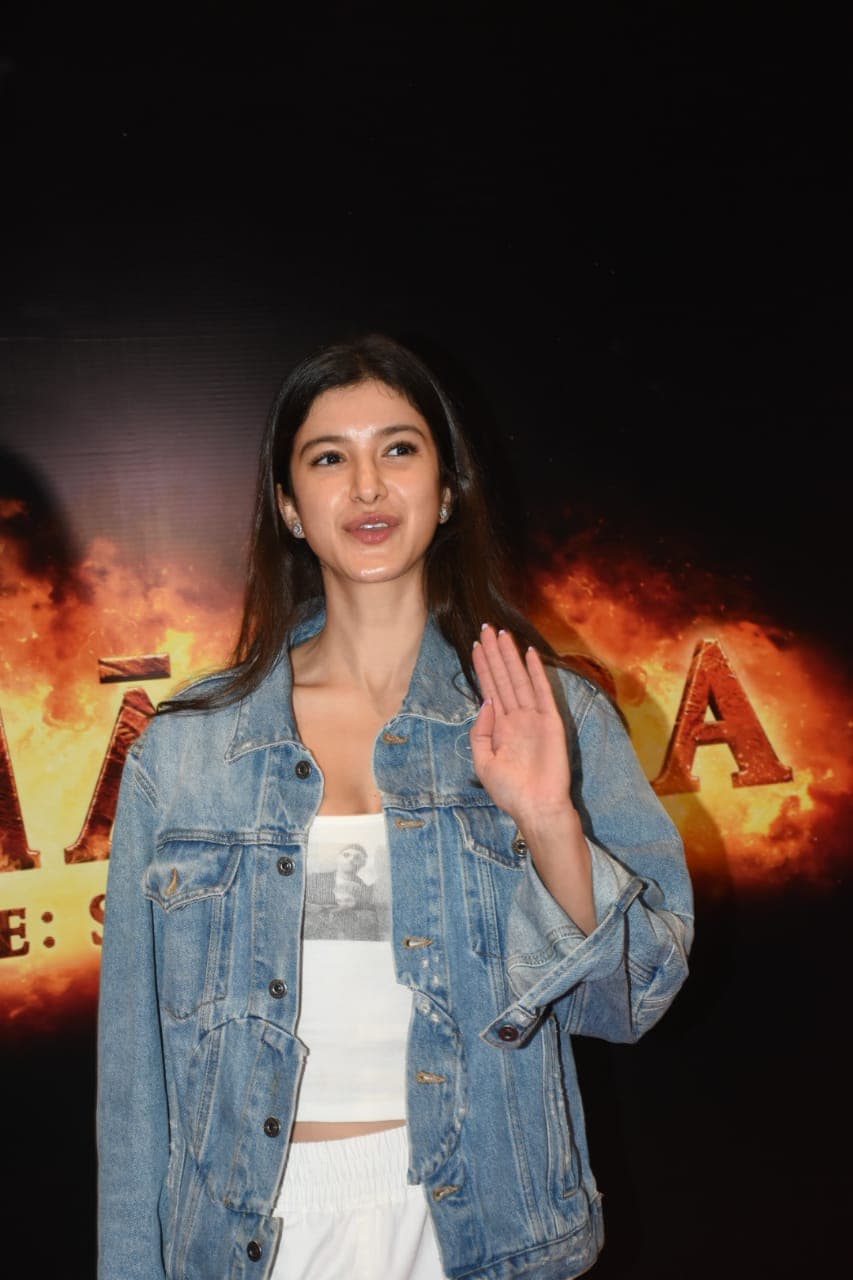 Shanaya Kapoor and her brother Jahaan Kapoor attended the Brahmastra screening on Thursday.
September 09, 2022 10:22 am IST
Final Brahmastra Early Booking Figures
For opening weekend- ₹33 crores (Hindi- ₹29 crore, telugu- ₹2.9 crore, Tamil- ₹28 million). For the first day- ₹17.71 crores (Hindi- ₹15.54 crore, Telugu- ₹2 crore, Tamil- ₹15 million).
Sep 09, 2022 10:03 a.m. IST
Ranbir Kapoor and Alia Bhatt are electric in this show by Ayan Mukerji. The film is a treat for Hindi cinema fans who have been waiting for a long time. Read our full review here.
09/09/2022 09:54 IST
Trade analysts predict a ₹30 crore opening day for Brahmastra, easily the highest of any Bollywood film in the pandemic era and the best since the war (2019). Numbers may still increase given early reviews and word of mouth
09/09/2022 09:37 IST
1 million tickets sold to date
According to HT sources, nearly one million tickets were sold for the film Thursday night in advance bookings.
09/09/2022 09:17 IST
Ranbir visited Lalbaugcha Raja
Ranbir Kapoor visited Lalbaughcha Raja in Mumbai with Ayan on Thursday to pray for the success of his film. Videos and photos of his visit have been shared online.
September 09, 2022 09:06 IST
Mahesh Bhatt and Shaheen attend the screening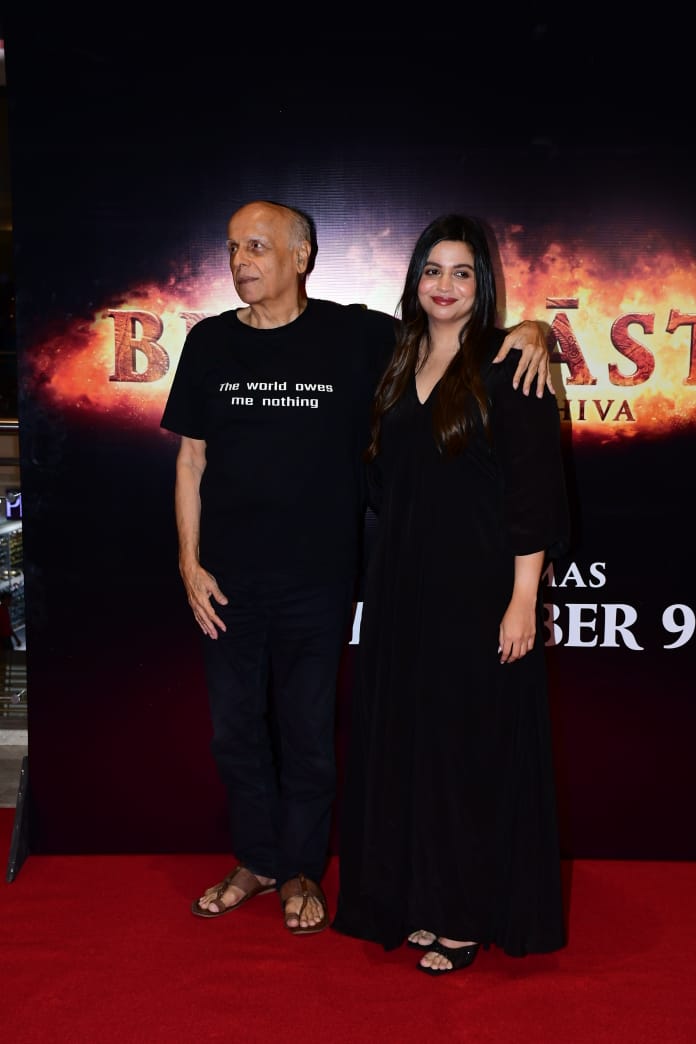 Mahesh Bhatt was spotted with Shaheen Bhatt at Alia's Brahmastra screening.
09/09/2022 08:52 IST
Positive reviews from international media
Film critic Courtney Howard tweeted: "#Brahmastra is a hugely entertaining springboard for a planned trilogy. Western cinematographic influences willingly mingle with pure Bollywood spectacle. @aliaa08 is bright & #RanbirKapoor is charismatic.
Sep 09, 2022 8:45 a.m. IST
Spoilers fill Twitter, Instagram
Fans are urged to steer Twitter and Instagram with caution. A few people shared a bunch of movie spoilers on social media.
September 09, 2022 08:35 IST
HT film critic Monika Rawal gives a rave first reaction: "No wonder it took years for #AyanMukerji to finally bring #Brahmastra to life. A true labor of love, you witness the magic in every frame . Fabulous VFX. Light and fire sure to add sparks at the box office. #RanbirKapoor is earnest, #AliaBhatt endearing. Worth watching.' The full review will be posted at 10 a.m.
09/09/2022 08:27 IST
Film trade expert Sumit Kadel wrote in a tweet: "If #Brahmastra turns out to be a good engaging film, no force can stop it from becoming HIT at the box office. The undercurrent and l The excitement for this movie among the audience is great, outstanding breakthrough is a testament to that.The last Bollywood movie that got such hype was #WAR.
09/09/2022 08:18 IST
Ranbir Kapoor and Alia Bhatt spotted at Brahmastra screening
Alia Bhatt and Ranbir Kapoor attend the special screening of Brahmastra on Thursday. Karan Johar, Ayan Mukerji, Neetu Kapoor, Shanaya Kapoor have also been spotted. Read the full story here.
09/09/2022 08:16 IST
Advance of Brahmastra crossed ₹23 crore for opening weekend
Brahmastra got off to a strong start at the box office with a record number of early bookings for a Bollywood film in the era of the pandemic. Read the full story here.