Anthony Roth Costanzo and Justin Vivian Bond.
The very urban venues of opera and cabaret have always attracted a strong quota of queer people. There's something about "I Am What I Am", the hit song by La Cage aux Folles—in the exaggerated expressiveness of both genres, desire and desperation over an intimate blue cocktail, the flamboyant exuberance of a full-throated stage production with powerful singers, choir, corps de ballet, mise on stage, sets, costumes, lights, and a big bold story told in music.
World-renowned singers Anthony Roth Costanzo, an openly gay countertenor at the height of his career, and trans performance artist Justin Vivian Bond, who for decades hung out at New York's Public Theater's Joe's Pub, got together. associates to share their queer identities through unique interpretations of classical music, pop chanson, cabaret and parlor numbers, and establishing a range of musical, thematic and emotional points of intersection between them. Think of Freddie Mercury joining in a catchy song with Montserrat Caballé at the Barcelona Olympics in 1992 or comedian Carol Burnett with Beverly Sills on The Ed Sullivan Show.
In these media, the ordinary individual – the viewer, the listener, the reader – who has otherwise left no great mark on the world can find the words and the harmonies that he himself is unable to say. From their live staging of this material in the fall of 2021 at St Ann's Warehouse, W Magazine wrote that it was "a scintillating, disarming, poignant, funny, sometimes totally spontaneous reminder of why theater exists".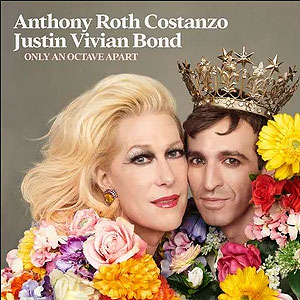 To highlight the solo vocals, each singer has their own track. ARC interprets "Über allen Gipfeln ist Ruhon a poem by Goethe which Henry Wadsworth Longfellow translated as "O'er all the hilltops is quiet now": "In all the treetops/ Heartest thou/ Hardly a breath;/ The birds are sleep in the trees:/ Wait, soon like these / You too will rest. Perhaps, in the midst of all the cheerfulness of the album, ARC wished to introduce a calm and solemn note (untranslated, by the way) to remind those who are "resting" now and as memento mori for those of us who keep kicking. What stood out for this listener was the German word "Vogeleinwhich literally means "little birds". The closely related Yiddish word "feygelakhis slang for "queer" (both pejoratively and affectionately, according to), that every gay man living in New York is sure to know. This may explain, at least in part, the choice of this song by ARC.
Mx. JVB's solo follows, a more obvious LGBTQ selection, a combo of rainbow songs, "I'm Always Chasing Rainbows" by Harry Carroll and Joseph McCarthy, and "Rainbow Sleeves" by Tom Waits. The vibrato-prominent baritone waits "in vain to find a little blue bird"—those birds again! reminding us of the blue bird in "Over the Rainbow" – and imagining, in Tom Waits' song, "places you'll never get the blues". "A heart that has been broken," the poet assures us, "will be stronger when it mends itself."
All other numbers feature the two voices together in the distinct vocal ranges and genres one would expect of them, but with an enchanting pairing where the two sound necessary and inevitable and often surprising.
The opening number is the famous song by Joseph Kosma on the words of Jacques Prévert, "Autumn Leaves", redone by Johnny Mercer. While it's not exactly a dark song, it correctly alerts the listener that they're about to have a serious musical experience, not just a gay frolic. It is followed by something totally different, Liam Sternberg's 'Walk Like an Egyptian', which The Bangles sang in 1987, resulting in an original Orientalist dance phenomenon, mixed with Akhnaten's 'Hymn to the Sun'. the Philip Glass opera that ARC performed. (and will be again this season at the Met) as a pharaoh who embraced the philosophy of one god.
Which might be a good time to say that all but two of the album's 12 tracks were arranged by composer Nico Muhly, whose operas Two boys and Marnie were both produced at the Metropolitan Opera to great acclaim. It makes a little multi-genre jewelry box of each issue, keeping it all sparkling and wonderful.
Another successful combo number is "Deh calm me down with me" from Gluck's opera Orfeo and Euridice. Orpheus is, of course, the great musical artist of Greek myth who loses his wife Euridice and spends the rest of his inconsolable life creating art to ease his grief. This is something that all of us who have survived the AIDS epidemic also know all too well. Accompanied by this tune, Peter Gabriel's song "Don't Give Up", a sort of musical counterpart to the "It Gets Better" campaign, encourages young people with questions and fears about gender identity to hold their ground, "because you have friends" and "you haven't fought yet", "you're not the only one", you have "no reason to be ashamed" and you can "be proud of who you are ". As we get older, we don't always remember that many young people around the world struggle with these issues every day. And as fascist forces continue to attack the LGBTQ community through legal restrictions and censorship of schools and libraries, affirmative support is increasingly needed.
In a track called "Two Charming Fairies," the singers join Henry Purcell's "One Charming Night" and the classic gay music hall number "There Are Fairies at the Bottom of Our Garden," delivered in a sort of arc Sprechstimme as a recitation musicalized by JVB.
The fabulousness of positive homosexuality is reinforced in Stephen Merritt's "Two Meadowlarks" – more feygelakh!—which refers to famous NYC watering holes such as JVB's Joe's Pub and the Rainbow Room. But the two friends would end up meeting later at The Eagle, a leather bar known for its brutal and dangerous S&M image – although everyone knows that a lot of queens like to dress up!
Another very successful mashup is the famous "Dido's Lament" from Purcell's opera Dido and Aeneas. It's his death tune, "When I'm Lying (in the Earth)", which has long been the subject of great humor not just in the queer community, but anywhere frank sexuality is celebrated (although I cannot guarantee that at the time of Purcell, the term had the same valence). The most memorable line from the tune is its heartfelt plea, "Remember me!" This may have particular resonance for LGBTQ people, many of whom don't have children to remember them by. Who indeed will remember us after we are laid down (in the ground)? The mashup is with the romantic song "White Flag" by — wait for it — Dido Armstrong: "I'm in love and I always will be. I wish I was in the room with these artists as they argued over which songs go together, which famous and obscure numbers from all the operatic and chanson repertoire they could crush to say something new. This cut ends with the musical ensemble recapping the famous notes of the aria "Laugh, clown!" from Leoncavallo's verist opera I Pagliacci it speaks to the often sad inner life of those who, like Rigoletto or perhaps any artist, entertain and entertain. (See "Talent to Amuse" under Noel Coward.)
"Everybody's a star," they sing in Patrick Cowley's "Stars" to a heavenly disco beat that ethereally recalls the hypnotic work of Philip Glass. Yet we also know, in the next standard by Dave Dreyer, Billy Rose and Al Jolson, that "Me and My Shadow" "have no one to tell our troubles to." It's almost as if artists are reaching out to their listeners, whoever and wherever they are, to say, "We hear you, we know how you feel, we've been there too."
We are dealing here with sophisticated artists, with vast professional experience and accomplishments, sensitive to "the promise of life" (to quote Aaron Copland, another gay artist) in all its complexity – joy and ecstasy, tragedy , loss and disappointment, sometimes all mixed together, or should I say, crushed into one unwieldy package. But ultimately, they offer the optimism that comes from trying something new and different, the hope that we'll survive it and come out stronger, the confidence to believe in ourselves, and the encouragement to " give love one more chance". There are so many embedded messages and subversive passwords conveyed in this album, but it comes across as a diamond trick, blending high culture with counterculture, an insider-outsider musical history lesson that is often camp hysterical.
For more on Justin Vivian Bond, see here; and for more on Anthony Roth Costanzo, see here.
Only an octave apart
Anthony Roth Costanzo and Justin Vivian Bond
Gold Decca B0034670-02, published January 28, 2022