FRANKLIN COUNTY — For Erin Grainger, the performing arts scene in the northwest corner of Vermont is thriving. Churches, village greens and town halls abound with soft music, but it could fade if the next generation doesn't keep it going.
"I think sometimes the right hand doesn't know what the left hand is doing," she told the Messenger. "We should be talking to each other instead of reinventing the wheel and thinking nobody is doing anything."
The county's geographic landscape — a perfect example of the old New England saying, "you can't get there from here" — and its spotty internet, have left some residents feeling disconnected from what's going on in neighboring communities.
"There is no central place to share information," said Grainger, a Sheldon resident who is, among other things, the music director of the First Congregational Church of St. Albans.
In 2017, she launched the first-ever church concert series, "Church Street Sounds of the Season," in tandem with Donna Costes of St. Luke's Episcopal Church.
Both women traveled to Burlington, Middlebury and beyond to listen to classical music and wanted to bring the sound they love closer to home. Grainger now holds fall concerts at First Congregational, and Costes holds spring concerts at St. Luke's.
Over the years, other Franklin County art enthusiasts have also started concert series, theater troupes, and music groups, bringing the performing arts to this rural area. And while all of these organizers love the work they do, many have admitted to Messenger that they – like much of the population of Franklin County – are getting old, tired and looking for the next generation to take up the torch.
"I have kids and I don't have the time to invest the way I want to," Grainger said. "I can do the music part, but I also can't maintain a membership list and advertise and do all the other stuff."
What Grainger believes, she said, is that older generations built the artistic framework of Franklin County — from Highgate to Fairfax — but young people are now needed not only to organize events, but also to connect them to each other.
"We have to build it, and they will come, maybe not in droves," Grainger said. "You just need to be there quietly, and let a friend of a friend of a friend tell them about it."
Developing the art scene
In 1984, Richard Harper, then a resident of Highgate, founded Missisquoi Arts, a small regional group which organized art exhibitions and musical events. Perhaps its most notable program was Summer Sounds, a series of free concerts that took place at 7 p.m. every sunny Sunday in Highgate City Park.
Summer Sounds featured a rotating lineup of local musicians, playing rock n roll, bluegrass and more. It was always busy, Harper said, and quickly became a model as similar events have since happened in places like St. Albans and Georgia.
In 1995, the explosion of artistic events across the region allowed Missisquoi Arts to change its name and mission. The group became the All Arts Council and what Harper called a "back office".
"We were a help for other people who were doing the initial work," he told the Messenger earlier this week.
Today, the council is almost dormant. Its website, allartscouncil.org, serves primarily as a calendar, listing Franklin County arts initiatives in one place.
"Franklin County fell into the rural and underserved category," Harper said. "We're still rural, but I almost don't want to admit that we're not really underserved anymore. What we see are hundreds of performers and, pandemic aside, hundreds of events over the course of a year across the community.
Harper compiles as many events as possible each week into an "ArtBits" newsletter. He does it, mostly by himself, from Florida where he now lives.
"One of the things I wanted to do for the last two years was, well, retire," he said with a laugh. "…But it's very difficult to get enough volunteers to make all of this happen."
In 2010, people age 65 and older made up 12.7% of Franklin County's population, according to census data. In 2020, this number has increased to 16.7%.
Where are the students?
In an effort to attract younger audiences to Church Street Sounds of the Season, in September 2021 Grainger hosted MusicCOMP at First Congregational Church.
During the concert, professional musicians, including members of the Vermont Symphony Orchestra and the Northern Third Piano Quartet, performed a number of new works by young Franklin County composers and other recent MusicCOMP composers.
"It gave Franklin County music students the opportunity…to hear their own instruments, the flute, the clarinet…without traveling to Burlington and paying Burlington ticket prices," she said. .
Although the MusicCOMP event was well attended, Grainger said she and other county arts organizers rarely see students at their events.
"It's really hard to bring school-aged kids to this kind of stuff in the community, and I think there are a couple of reasons for that," Grainger said.
Teachers and educators across the county are too busy, she said, and that was true even before the COVID-19 pandemic. Demanding schedules and schedules make it difficult to take students on field trips or even promote community arts events in the classroom.
Speaking from personal experience, Grainger said it's also a challenge for parents to load their kids into the car and drive them an hour or more to a concert in another city.
"It's a big ask… You have to make sure they behave in the car, they have to behave in the hall and then they have to behave on the way home," she said.
Also, since a vibrant and growing arts scene is still new to Franklin County, it may not yet be part of the culture to attend music concerts during high school hockey games.
"We're constantly competing against school sports," Grainger said. "Of course I think they have value, they teach different things to our students, but both are important."
Costes, who was a music teacher at Bellows Free Academy and a private teacher at St. Albans for more than 35 years, saw dozens of his students become conductors and composers. But many, she said, left Franklin County to start careers in metropolitan areas.
"They're not really coming back," Costes said, although she wishes they would and bring their backing vocals with them.
Dependent on donations
Although attendance at Sounds of the Season events at St. Luke's or First Congregational Church is free, the concert series is supported by donations.
Costes said groups like the Rotary Club of St. Albans have donated larger sums to Sounds of the Season in the past, but otherwise the funds come in small doses.
Donations are earmarked for organizational costs and given as small compensation to artists. Most bands are happy to perform for a small payment and a chance to sell their CDs, she said, but larger, more established bands need more funding.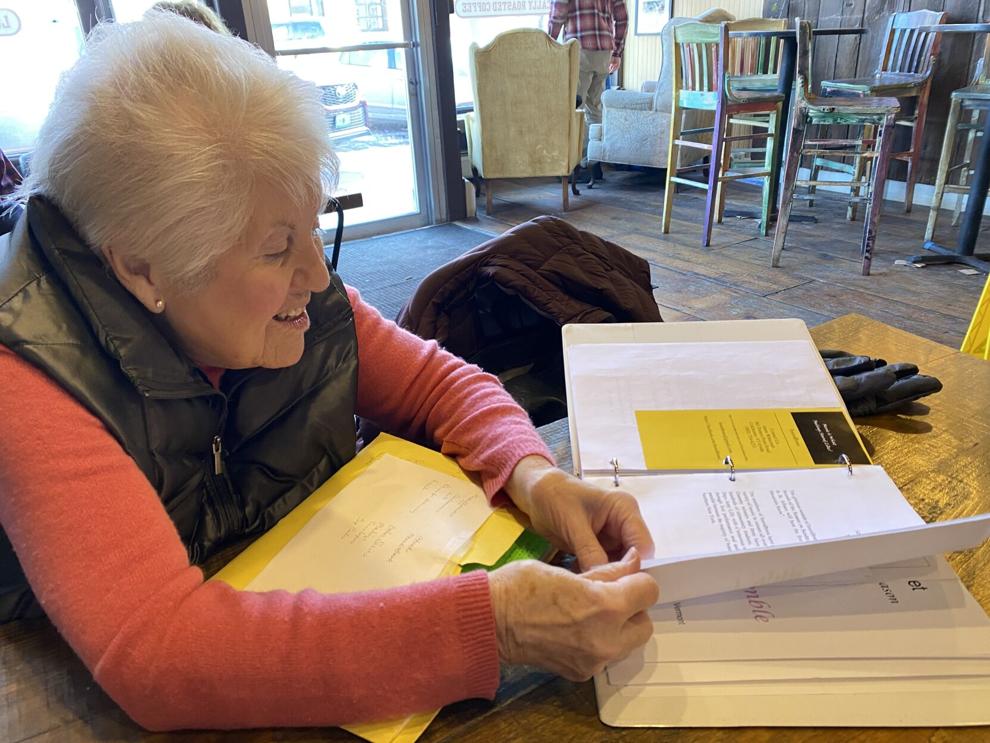 For example, she would like to bring the brass quartet of the Vermont Symphony Orchestra to St. Albans, but she does not have the approximately $6,000 needed to do so.
"There might be people willing to [to fund that], but I don't have time to find them," she says.
Change of hours
Nick Barletta, innkeeper at The INN at Montgomery Center, told The Messenger that a younger arts community was beginning to flourish in the north.
He and Jason Chartrand took over as organizers of the Celebration of Expressive Arts (CEA) events in 2020. The series, which takes place monthly from June to September on the hostel's outdoor patio, was launched in 2010 by Bob and Rebecca Cummins.
When the couple retired, Barletta and Chartrand took over as curators. In 2021, they sought out veteran and younger visual artists and performers as headliners.
"We intend to continue," Barletta told the Messenger. "It did us good. It's good for the community. »
In 2021, Chartrand invited Joel Veena, an Indian slide guitarist from Brattleboro to play at an event. He and Barletta weren't sure how receptive the "old CEA crowd" would be to such a different type of music, but they gave it a try anyway.
"They ended up being so in love," Barletta said. "And I was like, 'This is so wonderful. It offers people something they probably wouldn't have experienced on their own.
ACE events last year not only drew people from Montgomery, but also from St. Albans, Burlington and Morrisville. It's a nice change, Barletta said, to hear about people driving north for arts events, rather than south.